Thanks for visiting 17track.net. We've revamped our website; a brand new version 6.0 has been published. Please view the user manual below:
1 Input tracking number instruction

1.1 Enter the tracking number
Enter your tracking number without any spaces or dashes, one tracking number per line. Up to 40 tracking numbers can be added. Please ensure the tracking number is a combination of letters or digits.
See below example codes: RJ556381428CN (China Post Registered Airmail), CP921694660HK (Hong Kong Post Registered Parcel), LN328306902US (USPS E-packet Airmail), 3861078222 (DHL Express Service).
1.2 Track the number
Enter a valid tracking number, then click the "TRACK" button; the tracking result will be retrieved from the carrier's official site and presented to you directly.
1.3 Select a carrier
Under normal conditions, the system will auto-detect and identify the shipping carrier, country of origin/destination. You do not need to designate the carrier manually. If there are multiple possible carriers or the system cannot identify the carrier, please designate a shipping carrier manually.
1.4 Filter invalid input
The system can filter valid tracking numbers based on the default number rules. Part of a special number may require manual correction before proceeding.
1.5 Delete all input
Delete all input in the input box.
1.6 Delete a single line input
Delete one single line input in the input box.
2 View tracking result instruction

17TRACK will automatically track the package status and information. You can view the package status and sub-status, the transport time, the country of origin and destination, the carrier of the origin country and the destination country, the estimated delivery time, the detailed track information, and more information. Click here to view the status.
2.1 The transport time
Total time from the order collected by carrier to picked up by recipient.
2.2 Sub-status
Sub-status are provided by the carrier. They include more detal info about your package such as Arrival, Damaged, etc. The carrier may not provide sub-status, so you may not see them sometime.
2.3 Estimated delivery time
Estimated delivery time is provided by the carrier and may be not provided. If the package has been delivered, it will display the delivery time.
2.4 More information
View information such as package weight and volume, Last-mile Tracking Number and carrier. Not displayed if the carrier does not provide it.
3 Tracking result instruction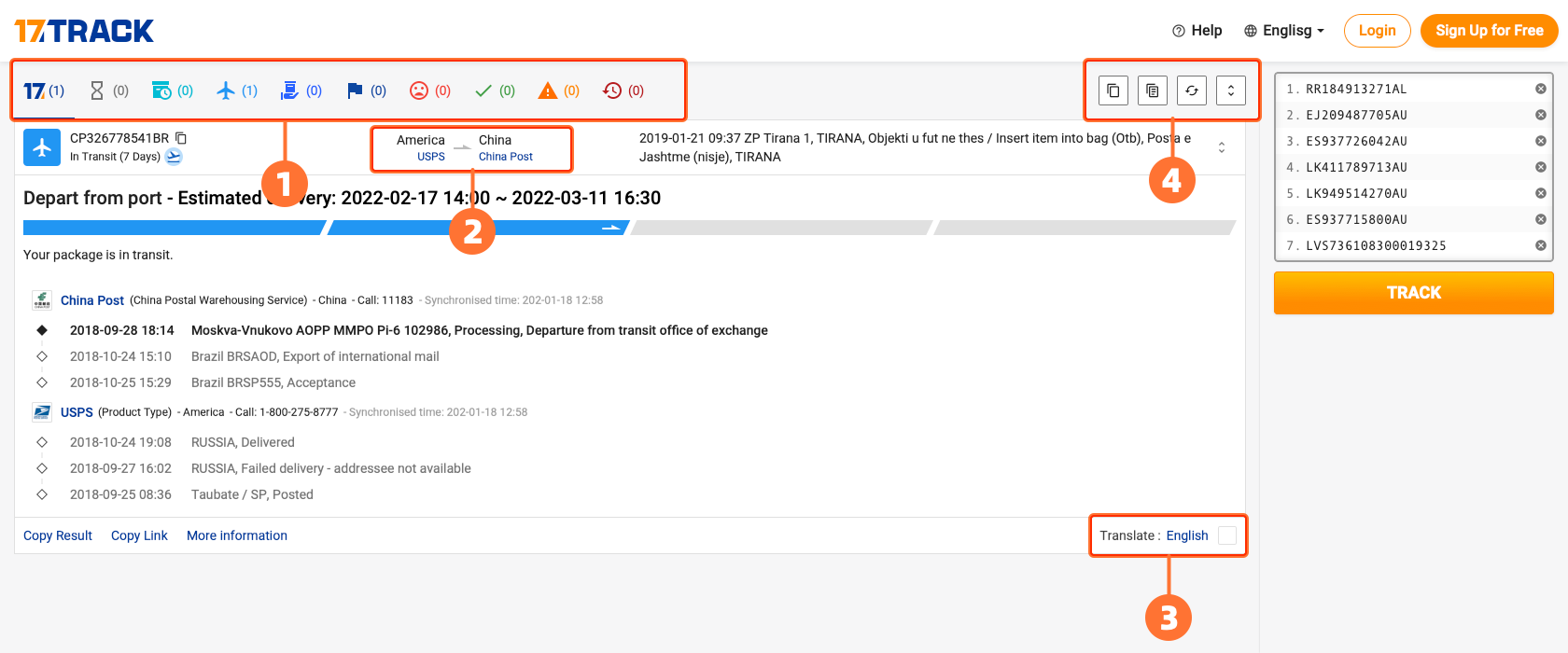 17TRACK supports copying tracking numbers, modifying carriers, copying tracking results and links, switching translations, batch operations tracking numbers (copy summary, copy details, error recheck, expand/collapse tracking details)
3.1 Package stutas
Move your mouse over the icon for each package state to view the explanation of each package status.
3.2 Designate/select carrier and add new numbers
You can revise, add and delete your tracking numbers in the input box on the right side.
You can also manually select or designate a specific carrier to process tracking. Once you select or designate a carrier, the system will track according to your request.
3.3 Instant machine translation
You can click on language(in the bottom right corner) to change to the target language. The tracking information will be translated by BING. You can also check or uncheck to translate or cancel the translation.
3.4 Batch operations tracking numbers
Operate tracking numbers in bulk such as copy tracking results summary, copy tracking details. If there is an error occurred, you can refresh to track again. You can also expand or collapse the details of these numbers to facilitate your reading.
4 Select carrier

4.1 Search for carrier
If a carrier needs to be searched manually, you can enter the carrier's name, official website or country name in the corresponding input area then you select carriers based on the search results.
4.2 Auto-detect carrier
If you don't know who's the carrier, please click auto-detect carrier and then the system will auto-detect the carrier.
4.3 Search history
The search history feature can be very helpful if you need to designate carriers frequently. The system will automatically retain eight most recently searched carriers so you can select them directly. (Clearing browser cookies will delete such information.)
If you still have doubts about using 17track.net., feel free to contact us.