After you submit the inquiry, the carriers will submit the new quotes to you according to your inquiry. Next, we will introduce how to view and choose the quotes you prefer.
View details
Currently, 17TRACK offers three methods to help you know the status of the quotes to your inquiries:
Emails and notifications: Our platform will automatically gather all the quotes submitted by the carriers and inform the inquirers via emails and notifications every day.

Statistics: After you log into the backstage of 17TRACK Freight Quote, you can view the inquiry description in My inquiry >In bidding. In the statistics displayed under the title, you can then see the number of the quotes.

Click Choose quote to view the details. In each column of the Inquiry description list, there is the button Choose inquiry. You can click the button to view the details of the quotes.
Choose quote
Go to Inquiry details. If there are quotes submitted by the carriers, they will be shown in Bidding Record. Then you can choose the quotes you prefer based on your needs.
For your information, if there are multiple quotes, you can only choose one of them.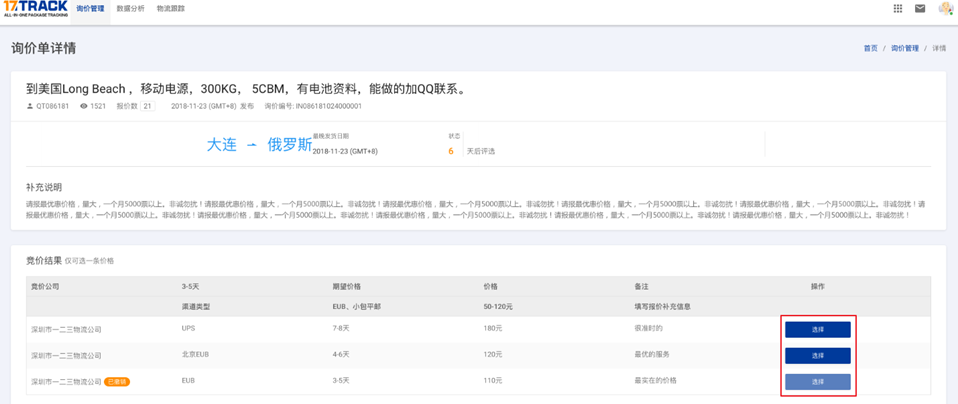 Importantly, there is also a time limit to the inquiry you submitted. If the status of your inquiry is To be chosen, you need to choose a quote as soon as possible. Otherwise the inquiry will be expired within three days, and you will not be able to choose the quote then.
After you choose the quote, the carrier of the quote can then view your contact information.
We wish you can work well together!
If you have any questions or feedback, please contact us. We will try our best to assist you!