SHENZHEN, 16 August, 2022 - Dianxiaomi, a leading global e-commerce SaaS platform, announced that it has raised $110 million in Series D funding led by SoftBank Vision Fund 2 and Sequoia China, with participation from Tiger Global Management, GGV Capital, and Huaxing Growth Capital. This brings the company's total funding in 2022 to $210 million (over 1.4 billion yuan). Proceeds from the round will be used to further expand Dianxiaomi's overseas team in order to accelerate international growth.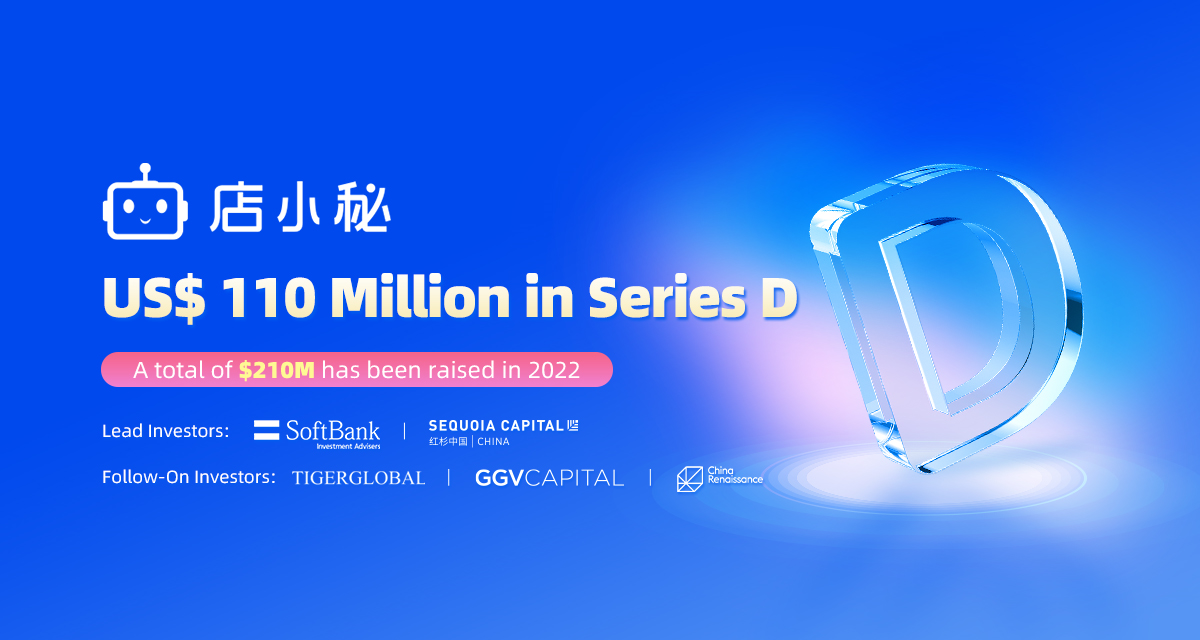 Pursuing Product-Led Growth While Fostering an Efficient Global E-commerce Ecosystem
Global e-commerce markets have continued to grow significantly in recent years as the adoption of online shopping has increased. Since its founding in 2014, Dianxiaomi has established itself as a market leader for cross-border e-commerce with an annual transaction volume of orders exceeding 350 billion RMB.
The company has successfully launched multiple SaaS products which are trusted by global clients and Chinese brands looking to expand abroad. Taking the complexity out of cross-border multi-platform e-commerce, Dianxiaomi enables merchants to set up their store front in one centralized location which simplifies processes and reduces the risk of human error. Today, Dianxiaomi has over 1.5 million global users and partners with more than 50 leading e-commerce platforms. The company also has over 1600 high-quality logistics providers, and more than 80 overseas warehouses. Global e-commerce sellers can now do business with just a laptop and Dianxiaomi's services.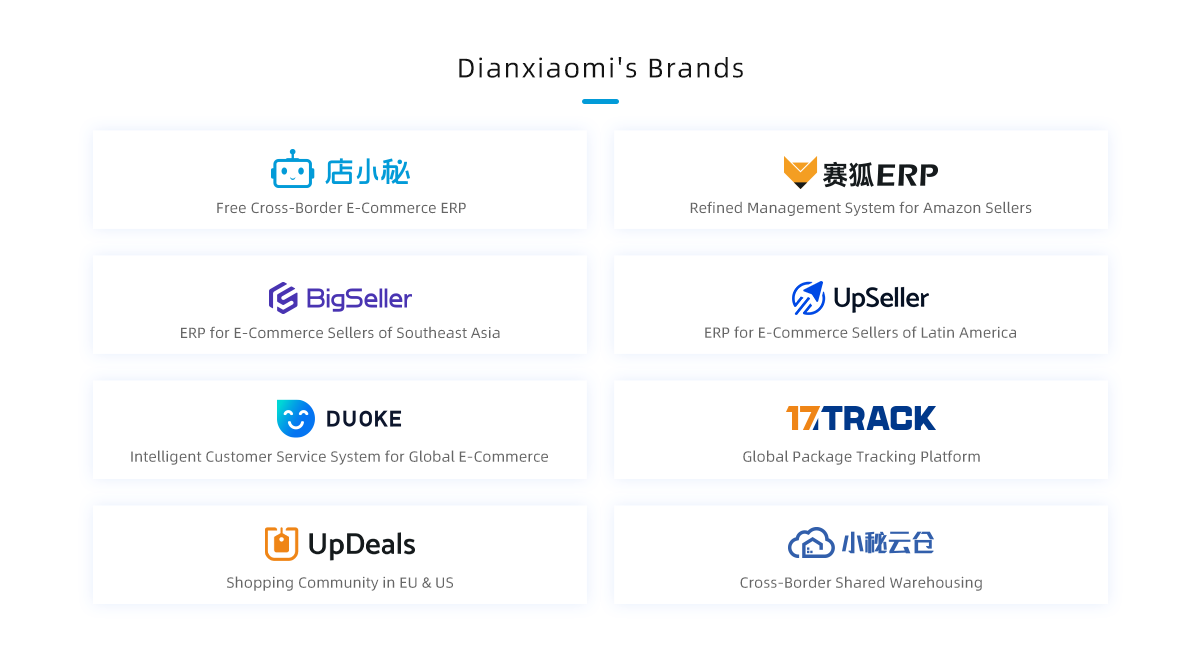 Building a Global Platform to Empower Merchants Globally
Dianxiaomi has established a diversified product matrix which focuses on Enterprise Resource Planning (ERP) as its core solution. Other products include SellFox, e-commerce ERP for Amazon sellers, and BigSeller and UpSeller, e-commerce ERPs for local sellers in Southeast Asia and Latin America respectively. In addition, their product portfolio also includes Duoke, the intelligent customer service system, 17TRACK, the global logistics tracking platform, and Xiaomiyuncang, the cross-border warehouse solution provider. Dianxiaomi plans to continue to release products in more regions and countries in the future.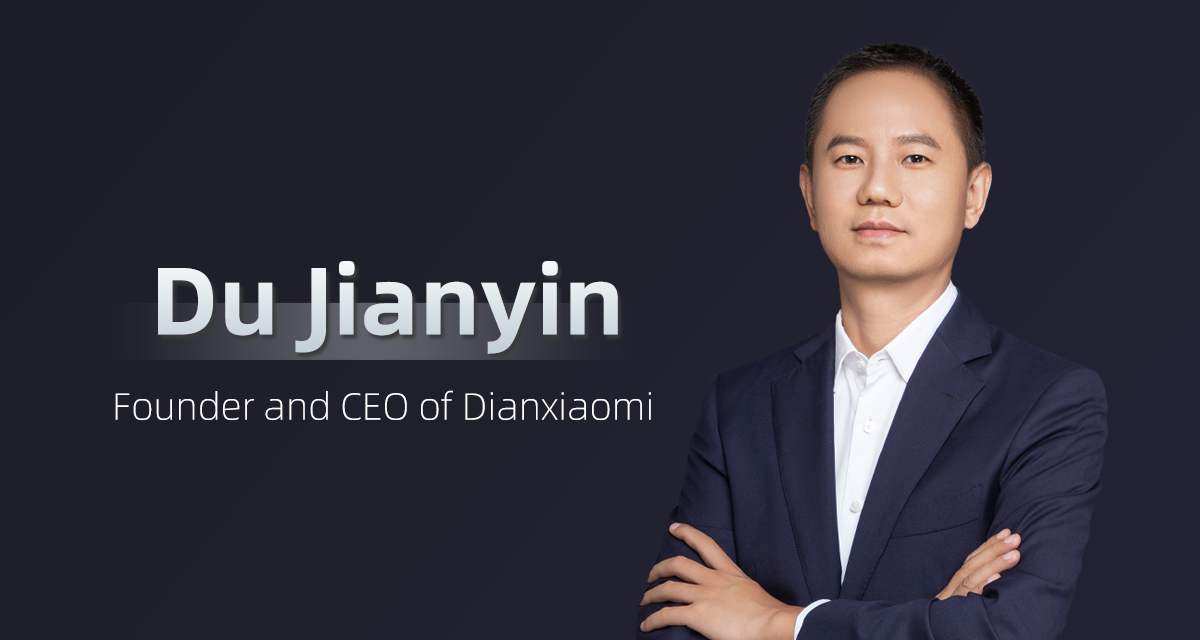 As early as September 2019, Dianxiaomi started exploring the international market and launched the Southeast Asian e-commerce ERP BigSeller, as a highly localized one-stop e-commerce solution. Up until now, BigSeller has been adopted by 430,00 local sellers and taken a lead in Southeast Asia. Encouraged by its success in the Southeast Asian market, Dianxiaomi started building local teams in Indonesia, Malaysia, and the UK. In June 2022, BigSeller started commercialization and earned over 7-figures in revenue during the first day, which represents both a key milestone for Dianxiaomi's global expansion and is a testament to its product capability.
In addition to the Southeast Asian market, Dianxiaomi has expedited releasing localized products in other regions with huge e-commerce potential, such as Latin America, Europe, and the United States.
Integrated Product Matrix to Establish a Global E-commerce Infrastructure
As a result of globalization Chinese brands will gradually transition from "Made in China" to "Created in China". During this process, ERP software is essential for cross-border e-commerce sellers to more efficiently manage their online businesses. Today, based on customers' needs, Dianxiaomi has built a four-pronged product matrix including e-commerce ERP, customer service systems, logistics tracking, and cloud warehouse services, forming a powerful e-commerce infrastructure.
Du Jianyin, the founder and CEO of Dianxiaomi said: "We have always believed that products are the best way to test the market. In the past two years, the cross-border e-commerce industry has experienced different cycles, and the movement of the market has validated our strategy. We stand out in the markets by maintaining patience and tenacity, focusing on "products" and "services" to consistently innovate and provide value to users. That is the main reason why Dianxiaomi has been recognized by the industry and capital markets. After this round of funding, we will accelerate our strategic planning for Dianxiaomi's international expansion, to truly make global e-commerce more efficient."
Kentaro Matsui, Managing Partner, SoftBank Investment Advisers, said: "In an increasingly complex cross-border e-commerce market, we're seeing a growing demand from merchants for a streamlined, omnichannel solution that can help sellers to maximize margin. We believe Dianxiaomi's ability to standardize the merchant experience by streamlining 36 global e-commerce platforms has given them a real competitive edge. We are pleased to partner with Du Jianyin and the whole team to support their mission of empowering the global e-commerce ecosystem."
Colin Guo, a partner at Sequoia China, said, "As e-commerce is entering an era of rapidly developing digitization around the globe, Dianxiaomi is capturing the latest industry trend with deep understanding of customer needs. The company is thriving to help global sellers improve business efficiency and reduce costs by its SaaS products. From an ERP solution to today's diversified product matrix, the Dianxiaomi team continues to extend product lines and expand into more regions, with excellent product innovation power and capability of landing its services on the ground in different markets. "