Email tracking service is to forward your tracking numbers to a dedicated email address (track@17track.net) by your registered or linked email addresses. Our system analyzes your email contents to find the tracking numbers and add them to the tracking list of your 17TRACK account automatically.
What is Email tracking service?
Automatically analyze tracking numbers from your shipping confirmation emails or written emails;
Automatically add the tracking numbers to your 17TRACK account;
Add special marks to the tracking numbers in the tracking list to indicate that they are added via Email tracking service;
You can link up to three email addresses to your 17TRACK account for email tracking;
Immediate feedback of the tracking number detection result;
Set the forwarding function for your Gmail or other mailboxes.
How to use Email tracking service?
If you do not have an account yet, please click here to register a 17TRACK account first.
The Email tracking service is currently only available for registered email accounts and their linked email addresses.
You can add the linked emails of your account via My account page: My account -> Click the head portrait -> Email tracking service -> Link email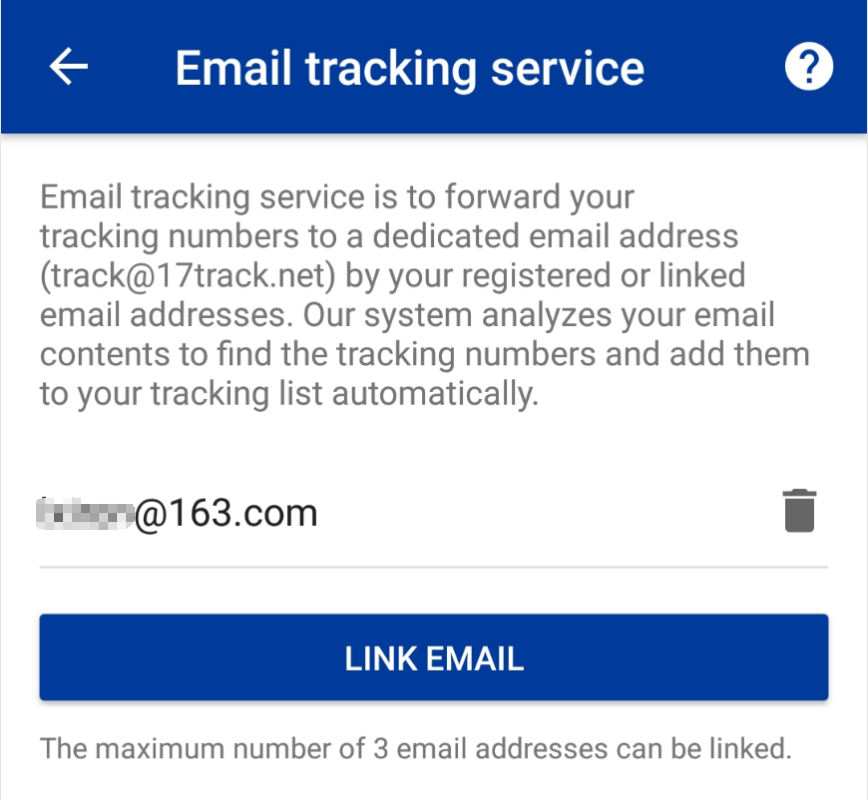 Example of how to send a tracking email: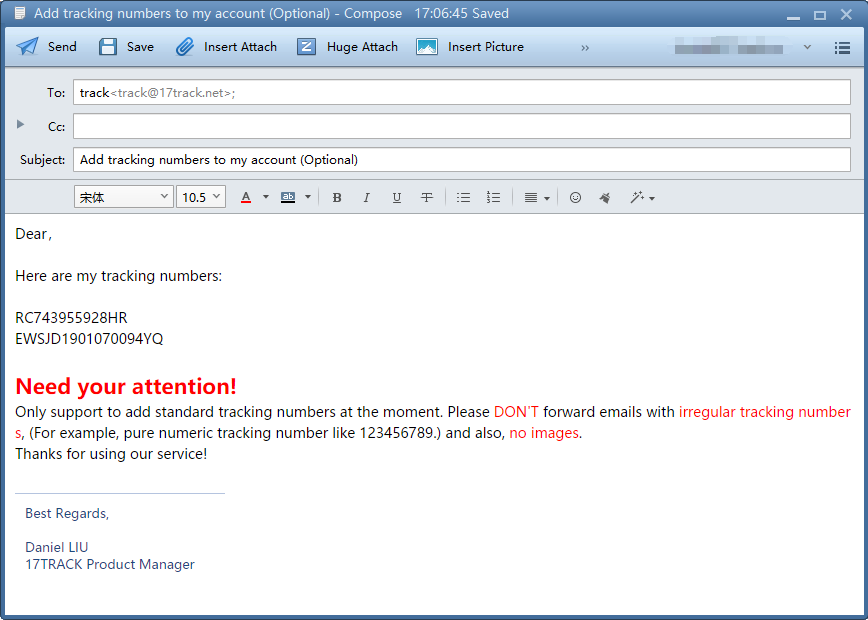 How to set the forwarding function for Gmail or other mailboxes?
Click Settings as shown in the below screenshot; click "Forwarding and POP/IMAP"; Click "Add a forwarding address";
Enter the email address "track@17track.net"; then click "Next";
Click the button "Proceed" to next step;
Click "OK" to send a confirmation code;
Our services will send the confirmation code to you; enter the confirmation code;
After verifying the email address, click "Filters and Blocked Addresses", then click "Create a new filter";
Enter the email addresses you want to forward with (e.g: shipping confirmation emails from Amazon.com) in the column "From": it means that if there are emails sent from these email addresses, the emails will be forwarded to the forwarding address you added in the previous step; then click "Create filter";
Check the "Forward it to" and select the forward email address "track@17track.net", then click "Create filter";
Settings done!
If you have any feedback or questions, feel free to contact us. We would get back to you as soon as possible!